Book Week Scotland 2019
Find out more about the National Book Week Scotland initiative from the Scottish Book Trust
Scottish Book Trust
At Glasgow Libraries we'll be celebrating all things books and reading with Book Week Scotland from 18-24 November. This special week is a chance to indulge a love of literature as well as discover new genres and writers and we'd love you to join us!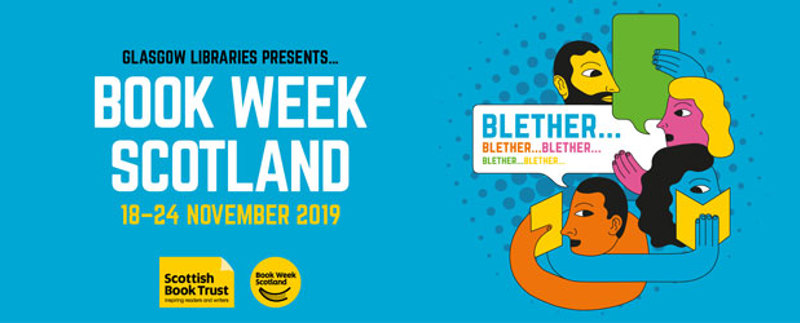 What is Book Week Scotland?
Our week-long extravaganza will feature a whole host of events and activities from authors, illustrators, poets and writers and both the Mitchell and local libraries throughout the city will be taking part. We'll feature events to pique any interest as well as special activities for families. 
This year's theme is Blether! That's right, we're having a good old blether this year at Book Week Scotland. Leading authors will join us to put the world to rights and have their say throughout the week.
We'll be joined by Mairi Kidd on novel her Warriors, Witches and Damn Rebel Bitches as she takes a look at the Scottish Women who changed history. We'll also have appearances from leading Scottish writers Doug Johnstone and writing duo Ambrose Parry (otherwise know as Christopher Brookmyre and his wife Dr Marisa Haetzman), Alex Grey, Lisa Ballantyne and Christopher Priest, to name just a few. There's also a special Poetry Blether when Glasgow's Gaelic Poet Laureate Niall O'Gallagher gets together with Glasgow's Makar Jim Carruth.
But the cherry on top has to be a visit from Scotland's very own Oor Wullie with illustrator Tom Morgan-Jones, with a Gaelic theme and lots of fun and games, a right treat for all the family! 
What's On?
There's lots going on a Book Week Scotland to take a look at our full programme and pick what your fancy. Most of our events are free! 
To buy Book Week Scotland tickets for our "In association with Aye Write" events click here.
Book Groups at Glasgow Libraries
Book Week Scotland is the perfect time to think about starting your very own Book Group.
It's so easy to do and Glasgow Libraries can help you select books and borrow for your whole group, we can even offer you a place to meet. Book Groups are a great opportunity to broaden your reading horizons by trying genres you might not naturally have picked. They also encourage you to keep up with your reading. And a book always comes to life when you have the opportunity to discuss it with others who have read it as you can analyse characters, ponder their decisions, ask each other what if and explore deeper themes. 
Come along to our Big Book Blether event on Saturday 23rd November to find out more starting Book Groups with Glasgow Libraries. 
How can I get involved?
There's lots of ways to get involved in Book Week Scotland! You can come along to one of our events for starters. But Book Week Scotland is about celebrating reading. So why not set yourself a personal challenge to read a new genre during that week. Is there a novel you've been putting off reading for years? Give it a go during Book Week Scotland. And of course pop along to your local Glasgow Library to borrow a great selection of books, or even borrow an eBook with our online library. You can also pop along to one of special Book Week Scotland Quiz and test your Scottish knowledge!